MANUFACTURING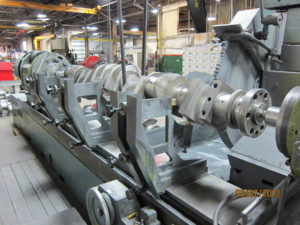 Note the small block of Lignum-Vitae between the crankshaft and the steady rest. Lignum-Vitae is very steel-friendly. It polishes steel which makes it ideal for industrial manufacturing.
Below are two case-study manufacturing problems solved through Lignum-Vitae bearings:



The Problem:
When manufacturing a crankshaft you need to do precise finish work and a product was needed to hold the shaft in place without damaging the shaft.
The Solution:
Lignum Vitae –Steel friendly and self-lubricating with no moving parts and no grease.
Polishes steel – Does not: Score, wipe, or smear steel.
---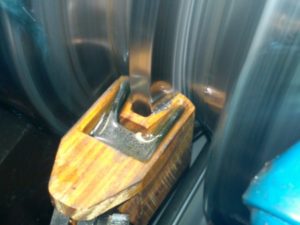 The Problem:
Application required 10 hours of continuous operation removing scale and oil from rotating dies without changing the diameter or shape in a hot environment. Process improvement division was challenged after 200 failed materials with $20,000 of spoiled pipe daily.
The Solution:
Lignum Vitae –Steel friendly properties that is self-lubricated and polishes shaft without any grease.  Created World Record by creating 40,000 lin. Ft. of 5"continuous welded pipe.