ABOUT US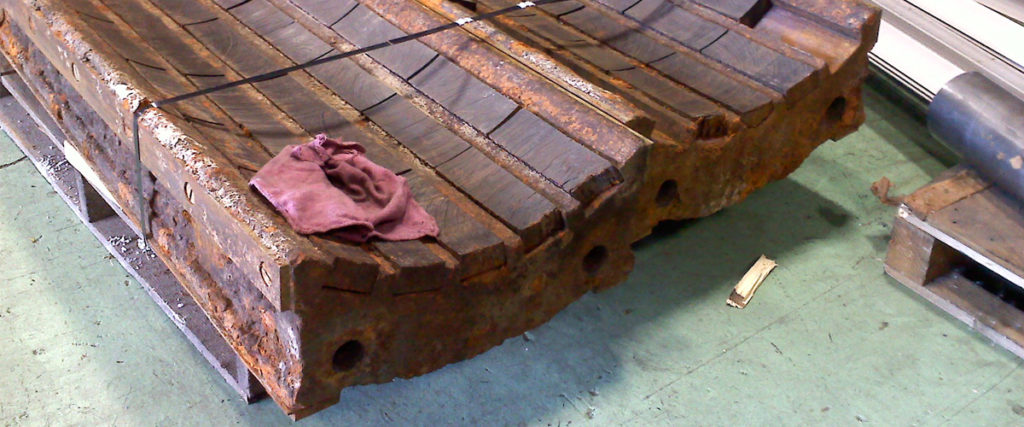 Lignum Vitae – Leading the Way Back to Water & Self-Lubricated Bearings
We believe environmental issues will eventually dictate removal of all oil and greased materials that threaten leaking into the water supply. Lawsuits filed in various watersheds will accelerate conversions to environmentally friendly water lubricated bearings. Risk-averse operators will require a reliable water lubricated bearing to replace all sealed oiled bearings.
Lignum Vitae North America's Mission:
Provide a reliable environmentally superior water/self-lubricated bearing solution that has the lowest lifecycle cost in each sector application. Our rich history is in hydropower but we have a bearing patent for wind turbines that will solve the bearing issues that plague that sector. We also have many horizontal bearings that serve all manner of horizontal water pumps. We will continue to innovate and provide solutions for mission-critical applications. We have extraordinary testimonials from decades of use, low maintenance cost and superior lifetime value. Lignum Vitae bearings have more than 100 years of proven performance with no oil or grease needed. Water/self-lubricated wood bearings remove the threat of EPA lawsuits and expensive manufacturing of toxic plastics and composites.
Key Facts:
Lignum Vitae bearings serve turbine diameters of any size.
Lignum Vitae bearings outlast competitive bearings six to one, lasting more than 60 years without the need for costly repetitive service and replacement.
North American supply ready to ship
The only environmentally responsible renewable industrial bearing available today
Replaces bearings found in the following turbines: Kaplan, Pelton, Leffel, Francis, GE, S. Morgan Smith, Westinghouse, Allis Chalmers and International
About Lignum-Vitae Water Lubricated Bearings
Lignum Vitae North America is the world's leader of genuine Lignum Vitae bearing material. Our material is operating around the globe in thousands of installations going back to the very beginning of hydroelectric generation specified by Thomas Edison in 1882.
Lignum Vitae is the only bearing material that was first specified and is still in service today! No other material has been in service longer or proven to be more reliable. We often hear of bearings that have operated 60, 70, and even up to 90 years without requiring maintenance.
Key features
very low coefficient of friction whether operating in fresh or saltwater applications
zero tolerance
steel friendly
very high MOE
very high working load
Lignum Vitae is the first true self-lubricating bearing and has been for centuries. This fact has brought competition from many different materials with some actually having a block of Lignum Vitae on their desk with a directive to their R & D to try to replicate what is known to be the gold standard of bearings.  Genuine Lignum Vitae has high compressive and yield strength. Lignum Vitae fits within the same design parameters as bronze and composite materials.
Lignum Vitae is the only material that is still in use from the inception of hydroelectric generation with outstanding wear characteristics even in the dirty/silty water, it has also been called the most "steel friendly" bearing material.
As the only industrial hydro bearing in the world, it goes without saying Lignum Vitae is also the most environmentally friendly. Lignum Vitae bearings require no grease, oil or other petroleum based lubricants with 130 years of history to prove it.
Lignum Vitae also is environmentally superior due to its lack of pollutants during manufacturing. No byproducts have to be disposed of causing further pollution.  When considering the fact that every other known bearing type requires mining and extraction, and generates manufacturing pollution, the long-term environmental implications of composite materials remain unclear.
Lignum Vitae is the bearing of choice for those who seek a non-polluting non-toxic, low carbon footprint in a product that boasts more than 100 years of reliable service. Lignum Vitae is the only renewable bearing in the word. The secret to Lignum Vitae lies in the interwoven interlocking grain pattern bound with an internal quaic gum binder that penetrates every cell in its structure. This perfect combination of lubricity coupled with the hardness in the wood has been especially effective in eliminating stick-slip issues associated with other materials.
Harvesting of Lignum Vitae
Genuine Lignum Vitae is an endangered species listed by CITES Appendix 2.
Appendix II lists species that are not necessarily now threatened with extinction but that may become so unless trade is closely controlled. It also includes so-called "look-alike species", i.e. species whose specimens in trade look like those of species listed for conservation reasons.
Lignum Vitae North America LLC is proud to have the privilege to trade in this very special species. It is our firm belief that without rigid controls and over harvesting could destroy this valuable species. If protected, controlled and sustainably harvested, the species will have long term viability.  Lignum Vitae North America LLC has all relevant licenses and permits, and can on request and, for a fee, file to ship anywhere in the world that subscribes to CITES. The material can be shipped anywhere in the US without additional paperwork.  However, if shipping out of the country including Mexico and Canada please contact our office for details to apply for required permits. Strict compliance ensures future generations also will have the privilege of using this remarkable material. Any questions or concerns, feel free to call or write anytime.
Bob Shortridge, Sr. President